Gay Twitter is known to react to cultural moments with wild abandon and in 2017 it has been no different. Below are the moments that left Gay Twitter shook—Babashook in this case—to its core.
RuPaul's Drag Race Valentina Elimination
Season 9 of RuPaul's Drag Race has been a bit of a snooze fest, to be quite frank. Everything changed in episode 9 when the gaggiest gag-worthy lip-sync between contestants Nina Bonina Brown and front-runner Valentina. Valentina started the lip-sync with the mask that she had worn for the runway still covering her mask which prompted Ru to cut the lip-sync short. "Take off you mask," the icon told the contestant and Valentina reluctantly obliged. It became clear soon after Ariana Grande's "Greedy" began again that Valentina did not know the words.
The shining star was eliminated, which prompted ALL THE REACTIONS:
YOU: Valentina was rob-

ME: pic.twitter.com/Aom4QrSSb4

— Adam (@adamjmoussa) May 22, 2017
@RuPaul @RuPaulsDragRace @AllOfValentina MAKE THIS MAN FAMOUS #DCPride #takeoffyourmask #idrathernot pic.twitter.com/jFEnzSrNpm

— Adam Trevino (@adamtrev) June 10, 2017
the four stages of realizing Valentina doesn't know the words pic.twitter.com/sOf4tkysAZ

— Kevin O'Keeffe (@kevinpokeeffe) May 22, 2017
Woke up and still not over last night's @RuPaulsDragRace I LOVE TELEVISION

— Leo West (@leolonnywest) May 20, 2017
(OK, that's me.)
Bottom line: never displease Ru, or she will eliminate you even if you're serving #flawlesslooks.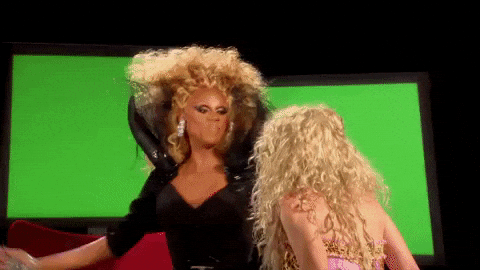 Ivanka Trump gets DRAGGED by Twitter
Advisor and Assistant to the President of the United States of America Ivanka Trump has a complicated relationship with her audience. Her speech at the 2016 Republican National Convention sounded to many like the words of her father's opponent. She is known to talk about liberal causes without actually putting words into actions and her continued support of her father's administration is problematic at best. The now famous Saturday Night Live sketch "Complicit" speaks for itself. So when girl tweeted her support for the LGBTQ community and #PrideMonth…
Logging back on after Shavuot, wishing everyone a joyful #Pride2017. This month we celebrate and honor the #LGBTQ community.

— Ivanka Trump (@IvankaTrump) June 2, 2017
…Gay Twitter dragged the political opportunist for filth.
Ivanka thank you for reminding us just how easily some think the LGBT community can be bought

I think we can be better than this #pride2017 https://t.co/jwdRDSj75r

— Alex Morash (@AlexMorash) June 3, 2017
Ivanka, kicking a cat: "Shoutout to cats!"

— Tim Federle (@TimFederle) June 2, 2017
We don't like you sis https://t.co/YbV1Phu9TM

— Ira Madison III (@ira) June 2, 2017
I wish your support went further than this tweet but beggars can't be choosers, right? Haha! Love you, Ivanka! https://t.co/7pzD4SMawO

— Cole Escola (@ColeEscola) June 2, 2017
Ivanka Trump approaching a gay to pose with for a picture so she can tweet it pic.twitter.com/xjqwx6E4q0

— Jon (@prasejeebus) June 2, 2017
After a long tearful fight, a man shows his boyfriend something on his phone. They suddenly laugh. "We'll always have that Ivanka tweet!"

— julio torres ~* (@juliothesquare) June 4, 2017
Ivanka: next time you want to support the LGBTQ community, maybe do more than tweet. As much as this gay man ADORES Twitter and understands its power, know that actions speak louder than words.
Moonlight Wins Best Picture
We all know the infamous story by now from this year's Academy Awards: It involves two Hollywood icons, an incorrect card, and probably the most mortified production assistant in television history. Yes, it was up to Warren Barren Beatty and Faye Dunaway to announce the Best Picture Winner and poor Ms. Dunaway said "La La Land" with a surprising amount of confidence, knowing what we know now.  
Watch Warren Beatty and Faye Dunaway announce #LaLaLand as the best picture winner. #Oscars pic.twitter.com/I6kqJry0Ik

— Variety (@Variety) February 27, 2017
La La Land's cast and crew made it up on stage and spoke for a full two minutes before producer Jordan Horowitz had to alert the billion people watching that Moonlight had actually won. Moonlight is the first LGBTQ-centric movie to win Best Picture and one of the only Best Pictures to deal with the issues black America is facing with an all-black cast. Here are some of the best reactions from Gay Twitter for this momentous occasion:
I've literally gotten 47 texts in the past 20 minutes which is what happens when something like that happens and you're ME.

— billy eichner (@billyeichner) February 27, 2017
the greatest gift the Oscars gave us was MOONLIGHT as best picture

the *second-greatest* was all these new reaction images

— Kevin O'Keeffe (@kevinpokeeffe) March 1, 2017
I got ~4 hours sleep and am running purely off MOONLIGHT win adrenaline pic.twitter.com/yoX7BqUiry

— Kevin O'Keeffe (@kevinpokeeffe) February 27, 2017
I am living in Moonlight's America.

— Brian Moylan (@BrianJMoylan) February 27, 2017
GOOD MORNING MOONLIGHT IS BEST PICTURE pic.twitter.com/IU9MfWHjGm

— E. Alex Jung (@e_alexjung) February 27, 2017
But of all the social media moments this year, the biggest Gay Twitter moment exploded just this month.
C'mon Gay Twitter, Let's Get Babashook
The Babadook is now queer icon. The monster, from the eponymous 2014 film in which he terrorizes a newly-widowed mother and her son, has took off as a symbol of LGBTQ pride.
The origins of the Babadook-is-queer-and-not-here-for-your-heteronormative-bullshit, like the monster itself, are somewhat hard to pin down.
Some say we can point to Tumblr—where most good memes are born—for the start of Babadook realness from an October 2016 post. Others say that drag queen Lucy Balls got the trend going with this now iconic and spooky lip-sync in January of this year:
Talk about slaying the game: She haunted the game, terrorized it, and then convinced the game to murder its own son.
Writer, Producer, and Gay Twitter icon John Paul Brammer tweeted this in February:
good morning the Babadook is openly gay

— JuanPa (@jpbrammer) February 16, 2017
Once the Babadook's sexuality was a known entity, social media was LIVING FOR ITS EBENEZER SCROOGE, ABE LINCOLN, LEAH-REMINI-WITH-A-NEW-MANICURE FANTASY LQQKS.
To all my LGBTQADOOK brothers and sisters: come out of the shadows you manifest in and share your truth with those you love! pic.twitter.com/4JVqo9HfHc

— Alex Bedder (@itgetsbedder) June 6, 2017
The Babadook every night: pic.twitter.com/tv4hXxoRpI

— Alex Abad-Santos (@alex_abads) June 7, 2017
Gay people identify with monsters because we grew fearing we might be one okay Carlos just shut up and enjoy the stupid Babadook meme.

— Carlos Maza (@gaywonk) June 7, 2017
The ghoulish beauty is even getting in on social justice:
Not a lot of people know this but the Babadook threw the first brick.

— Joel Kim Booster (@ihatejoelkim) June 7, 2017
The Babadook fought so we could live ????️‍???? (h/t @kamilumin) pic.twitter.com/YrIHiKnrUh

— Dean Tāne (@Maccadaynu) June 7, 2017
And you know our girl showed up at Prides and Equality Marches across the country this month:
Babadook got moves! pic.twitter.com/Bli9ateezb

— Kyle Buchanan (@kylebuchanan) June 11, 2017
Some signs spotted at the D.C. Equality March for Unity and Pride, where many protestors brought their senses of humor with them. pic.twitter.com/RELM6O5D3g

— NBC Out (@NBCOUT) June 11, 2017
Memes and social media moments can happen at any time. Thank goodness that Gay Twitter will be here to spill the tea when necessary.
God bless, and happy Friday.