Editor's note: You might remember our former intern Leo as the one who had you SHOOK with his collection of the best of Gay Twitter throughout the first half of 2017. When he offered to write a guest blog about the community's reaction to the new Queer Eye series, who were we to say no?
***
Readers: the Queer Eye for the Straight Guy reboot from Netflix (this time just called Queer Eye) is amazing! It's heartfelt, funny, silly, practical and possibly society-changing.
If you are not familiar with the show, it follows five gay men as they makeover the lives of hapless straight men—and in possibly the best episode of the new iteration, a gay man struggling to integrate his sexuality fully into his life. Each member of the so-called "Fab 5" has a speciality that they bring to each of the subjects to make their life a little more fab: Jonathan (Grooming), Antoni (Food & Wine), Bobby (Design), Tan (Fashion) and Karamo (Culture).
Unsurprisingly, #GayTwitter had some FEELINGS about the reboot—partially because queer representation in media is still lacking—but also because….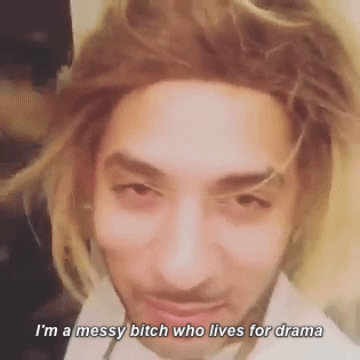 So strap in ladies, gentlemen and gender-nonconforming-folks, because I've compiled (i.e. went through my "likes" on Twitter) an exhaustive collection of the best reactions, thoughts and reads about Queer Eye from Gay Twitter.
Category 1: The Need for Tissues
This show will make you weep. *Jonathan Van Ness voice*: She's giving you emotions; She's giving you earnestness; She's giving you acceptance; She's giving you understanding; She's giving you Trump-era, issues-based conversations.
all i do now at night is cry while watching someone on queer eye have their life changed with west elm furniture, pomade, and an avocado dish

— aaron edwards (@aaronmedwards) February 27, 2018
imagine ~not~ crying at an episode of Queer Eye

— Sean Doherty (@theruraljuror_) February 26, 2018
Life update: Just finished AJ's episode of Queer Eye and do not even remember the last time I happy cried that hard

— Brett S. Verg-BECCA ???? (@BrettSVergara) February 25, 2018
Will I cry at every Jonathan hair sesh on Queer Eye? Probably! pic.twitter.com/V7qfIOIq4o

— Carey O'Donnell (@ecareyo) February 13, 2018
Queer Eye make-a me cry like a baby!!!!!

— Bowen Yang (@bowenyang) February 12, 2018
Me turning on the Netflix @QueerEye reboot: "I probably won't cry."

Me 7 minutes in: pic.twitter.com/2WGiFFugfP

— Tim Federle (@TimFederle) February 10, 2018
Category 2: A Star is Born in Jonathan
Jonathan Van Ness is a true beacon of goodness in this world. His gorgeous long locks are perfect for his personality and he's truly serving lewks in every episode. If you're unfamiliar with his previous work, he did a hilarious serious with Funny or Die called Gay of Thrones— go watch it; he's delightful.
Be the @jvn from @QueerEye you want to see in the world pic.twitter.com/aaiuWyyYO6

— Netflix Canada (@Netflix_CA) March 2, 2018
Jonathan is a fucking treasure and a shining beacon of kindness, goodness and everything right in this world. https://t.co/0YHizS3PRd

— mat whitehead (@matwhi) February 21, 2018
I finished @QueerEye days ago but i I still find myself laughing as I recall some of the things @jvn said/did on the show. A star!

— Dave Quinn (@NineDaves) February 19, 2018
i watched so much @QueerEye last night. the show is so good & i cried many, many times. also this iconic @jvn moment was my first thought when i woke up this morning?? pic.twitter.com/8YZH5RNpEI

— tyler oakley (@tyleroakley) February 28, 2018
Category 3: Antoni's "Cooking" "Skills"
Food & Wine specialist Antoni Porowski has taken Gay Twitter by storm. His penchant for avocado dishes and simple recipes has some questioning his cooking abilities* but BOY IS HE CHARMING AND CANADIAN AND HANDSOME!
*WHO CARES HAVE YOU SEEN HIS FACE/STROKES TEES/SMILE?!
I get that you guys love Antoni from Queer Eye but he put greek yogurt in guacamole.

— Guy Branum (@guybranum) February 18, 2018
I love Antoni because everyone else is making these people cry and unearthing their inner ticks and he's like "I'm gonna show you how to peel a tangerine." Which a good reprieve from all the crying I do each episode. #QueerEye

— Phillip Henry (@MajorPhilebrity) February 14, 2018
Hotness goal: Only know how to make the simplest recipes anyone could look up, but still be in every scene of a gay TV show pic.twitter.com/CjzE21otGB

— Hugh McIntyre (@PopBangHugh) February 18, 2018
Antoni is CRUCIAL to #QueerEye. He taught us all you can crush potato chips on a hot dog and sell it for $5. We stan a capitalistic queen.

— The Gay Burn Book (@SouthernHomo) February 25, 2018
I decided to tackle one of the Queer Eye recipes tonight… pic.twitter.com/UJdZ54SGjK

— Danny Pellegrino (@DannyPellegrino) February 21, 2018
Antoni from Queer Eye: "Today I'm going to show you how to make Ramen Noodles."

Everyone: pic.twitter.com/vj5ja7M90c

— Brian Moylan (@BrianJMoylan) February 20, 2018
Even your fave ChatterBlasters got in on the action:
sometimes the greatest gift in life is the pause button pic.twitter.com/XGF6XMF1ro

— Valerie Hoke (@valperiepal) March 2, 2018
Watching #QueerEye makes made me realize that we are in a terrible time with no makeover shows on tv

— Leo West (@leolonnywest) February 10, 2018
It takes a lot to have Gay Twitter come to a consensus, but Queer Eye has essentially done the impossible. Once you're done reading this, drop whatever you are doing and get your mom's/friend's/ex's Netflix account and spend some time with the most fabulous men on television.
Final thoughts: What is Karamo's actual job on the show? Anyone?
(Whatever, who cares, he's handsome and charming.)